We have all had a few weeks to reflect on England's latest worst performance ever on a international stage. It must be time to re-group and look at why English football is in the state it currently is.
Is it time to look at why we seem to be behind countries such as the USA or even Ghana? Maybe it is time to really look at how we are teaching kids to play? Maybe having the richest and 'best' league in the world is having a negative effect?
We get
Gary Neville's opinion in The Sun
'Capello plays who at right-back?'
"Maybe we expect too much, although there is no doubt England are better than they showed in this World Cup.



"The real failure was in the group stage - not finishing top cost England because we ended up playing Germany, not Ghana."
Make a note for the next World Cup: don't expect too much and avoid the good teams.
The Sun, always the optimist, have decided that we're not so bad, after all
at least England scored twice
when they played Germany:
"Asked if England should be considered better than the Argies because they only lost 4-1 to the brilliant young Germans, Lahm smiled: "You scored two goals!""
Reassuring words from Philip Lahm there. We just made more progress not being in the competition than we did in the last 44 years!
The News of The World decides that blame is probably better than a cure and go with:
"WAYNE ROONEY BLAMED FOR WORLD CUP DISASTER"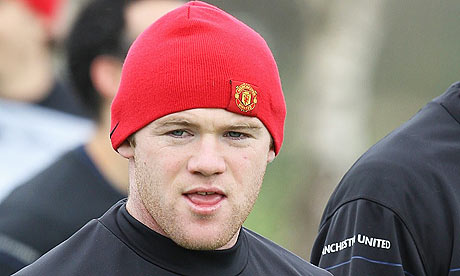 'Errr...'
It seems everyone's blaming Rooney. Except of course, it's the News of the World and they even have to write misleading headlines about their own articles.
A brief venture into the article and it becomes clear it was a poll of 1001 adults (most likely the dribbling morons we call 'NotW readers') that were asked to name England's worst player. Good job they weren't asked to name England's best player.
Then The Mirror gets serious and down to the real issues;
"Ashley's sex texts to model before England games"
Apparently Ashley Cole had been texting rude things to an unnamed young, blonde model. For the purpose of this article, we shall call her Geoff.
Like she's surprised anymore.
Geoff claims that Cole;
"called an England performance s***"
That could frankly be at any point in the tournament.
A mere

"Three hours after the game, which England struggled to win 2-1, Cole texted: "So where's my pic then."
There wasn't a phone ban three hours after a victory? Capello's disciplinarian reputation must be vastly exaggerated.
"Cole then demanded the model reply with a picture of her "t*** out""
It says something about our opinion of footballers that none of us are thinking that 'i', 't' and 's' are the missing letters in that quote.
"She added: "Any time I asked him about football he just wouldn't talk about it. It was clear he only wanted to talk about sex.""
Really? No talk of 4-3-3 formations at all?
Given Cole seemed to be the only player that turned up, maybe every player should be given her number.
Read some good articles here:
"Glenn Hoddle's idea for change
"
I'll update them as I get to them or when my boss stops looking over my shoulder.